I bought this yarn to be a Melon Shawl, but the yarn wanted to be a Shoulder Shawl in Syrian Pattern.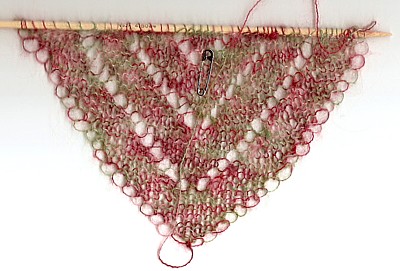 Do I know why? No. But I do know I don't like Crystal Palace Kid Merino quite as well as Kidsilk Haze, though it does appear to be a good, less costly, substitute, and it comes in some interesting colors. It just doesn't have quite the sheen and softness of Kidsilk Haze.
I have no clue what I'm going to do with this shawl when I'm done. I have two triangle shawls already that I don't get to wear often enough.