I haven't posted in a while - but the sturdy repeats of the melon shawl just don't bring enough change with them to make so many pictures ,)
Yet this week I finished the center panel (62 repeats of the chart 8 melon pattern), and started with the edging. After trying to figure it out, I finally started - and it was really easy. I got along well that evening, but ... the shawl, or rather stole, is really long, and doing all thise single joins is just taking sooo long ... well. But I should be ready for my deadline next week, as un Thursday night I'm going to wear it for a ball!
So here's the shawl in its long, long glory (with the edging well around 3/2 already):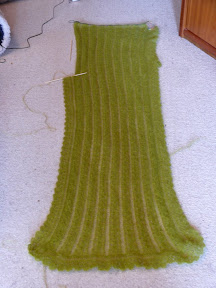 And here you see a closeup on the edging (on my bamboo needles):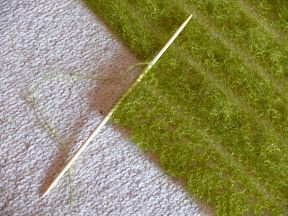 I have to confess, the edging pattern is wrong, because I redrew it in my scrapbook, and drew the BO part 2 row too early, so I have a quite assymetrical lace pattern there - but it looks nice, you'll see it better in the blocked state next week, and at least now the shawl's unique ;)
BTW, I'm using rowan kidsilk haze (called for in the pattern), and it is really sticky in itself, but still ribbing back 2 edging rows is no problem. Just the perfect yarn for the project.